889 Barre: Launching JUNE 2!
May 16, 2017 | by Kerry Heming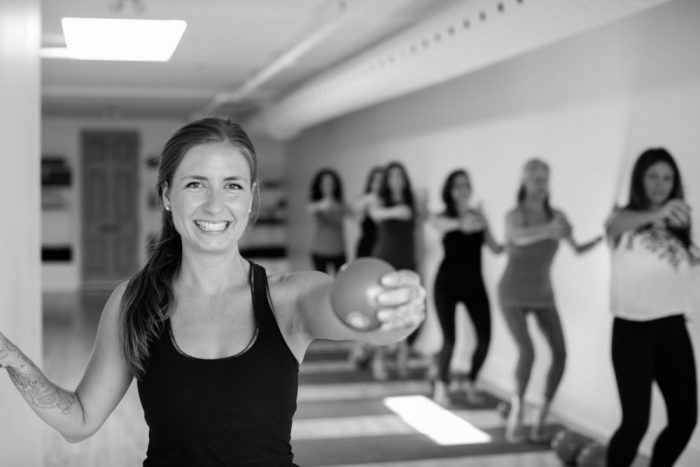 The secret is out…
I am so excited to finally be sharing this amazing news with you. We are launching 889 Barre this June! I have been working on this program for the 889 Community for several months – working through kink after kink – and now this vision is becoming a reality.
Growing up I practiced different forms of dance every night of the week. After high school, my practice slowly dissipated and the dancer in me was bumped to the sidelines for most of my adult life. But at long last, this dancing drought ended 2 years ago when the Barre fitness craze came out HOT on the scene. For me, it was love at first Barre class.
In Barre classes, I felt that same feeling I had so many years ago when I danced – the challenging sequencing, musicality and fun atmosphere made me feel like I was right back at my home studio (HDA – represent!). I decided to get my Barre certification immediately; first completing a certification with Barre3 and recently receiving my Barre teaching certification from the International Ballet Barre Fitness Association. Needless to say, I am ready to show you what I've got!
So, What is Barre?
Barre is an energetic, uplifting and FUN ballet-inspired fitness class. We will be using the fundamentals of ballet to get your heart rate up and your muscles firing. The ballet barre is our main prop. We will use it to improve your balance, strength, flexibility and alignment. The ballet barre is meant to be used for support, but not fully relied on. I will encourage you to treat the barre like a 'dance partner', holding it gently while still maintaining your own weight – this is where the work will come in! As you continue to practice and develop your technique, you will start to rely less and less on the barre and more on the strong and supportive muscles you have created.
889 Barre classes will lengthen and strengthen your body from head to toe, focusing specifically on the legs, arms, core and glutes and targeting all the smaller supportive muscles in between. The tunes will be pumping to keep us on the beat while your physical and mental strength are put to the test. The goal is for you to leave this class feeling energetic and confident with a stronger sense of body awareness so you can bring what you've learned from class into your everyday life.
Why Practice Barre?
There are so many benefits to practicing Barre! You will see your body transform before your eyes when you start to develop a consistent practice. Your posture and alignment will improve dramatically, as well as your overall strength and muscle definition. This class will improve your stamina and begin to sculpt and lift your muscles gracefully into place. Your core will be active the entire class to support your posture and balance, so increased abdominal strength is a guarantee.
Barre is the perfect compliment to your Yoga and Pilates practice. You will be challenging different muscle groups, encouraging more focus and concentration and promoting a positive mind-body connection. Your muscles may even start to quiver and quake uncontrollably. Do not fret! This is a good thing.
When you ask your body to do more than it's used to, your neuromuscular system is challenged and tiny tears will occur in your muscles. This, in turn, causes your muscles to rebuild, and become even stronger. SO I say – shake your heart out! The more you work on these shaky exercises, the stronger you'll become.
What You'll Need:
When you're ready to take your first barre class, be sure to wear breathable workout gear, bring a water bottle (100%) and a small towel (recommended). It is my goal to make you sweat – at least a little :). Barre socks will also be mandatory for classes at 889 for your safety as we will not be using mats. You can purchase your socks in advance in the 889 Shop.
889 Barre Launch Party
On Friday, June 2nd, we will be hosting 3 barre classes throughout the day to celebrate this new addition to our 889 class schedule. Join us for some fun giveaways in-studio and try your first barre class at 889! All classes will be 45 minutes in length and held in the Earth studio. We will maximize our time together and get a full body burn on to propel you into your weekend.
June 2nd Schedule
7:15-8:00am
11:00-11:45am
5:00-5:45pm
Final Words of Encouragement
Ultimately, Barre will make you feel like a rockstar. As you start to stand taller and feel stronger your confidence will increase, you'll have more energy day to day and everyday life will become more enjoyable. If you have never done anything like this before – please come! All levels of practice are welcome. I will be by your side, guiding you through it – shaking and quaking with you. I am over the moon excited to bring this incredible experience to our community. My goal for you is to have FUN and feel good in your body. Positive vibes all around. Let's dance.