Stocking Stuffers for the Yogi Men
December 15, 2016 | by Jim Story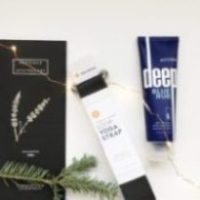 Stocking stuffers for the male yogi on your shopping list? Looking for quick and easy gift ideas for the yogi male in your life this Holiday season? We've got a few ideas that think you'll love as much as we do!
Our Top 10:
Province Apothecary: Incense Sticks that are gently infused with pure therapeutic essential oils, no nasty + toxic fragrance oils. Available in scents to support clarity, creativity and ease, such as: Cedarwood, Lavender and Black Spruce + Fir Balsam | in-store and online $12
Halfmoon: Yoga Strap to help him deepen his leg stretches post yoga or intense workout, like never before. Available in Charcoal or Natural | in-store $20
doTERRA: 

Deep Blue Rub

 to massage into sore muscles, a non-greasy formula that is perfect to toss into his gym bag or bathroom cabinet | in-store and online $58
doTERRA: Cedarwood Essential Oil has a warm and woody scent, that when diffused in his space, will help to promote a soothing and relaxing environment (and can also be used topically) | in-store $22
Green Air: Aroma Wave Car Diffuser for him to take on the road on business trips or family trips | in-store $20
Mala Beads: varying styles for him and her for the yogi | in-store
B Yoga:

B Strap

for him to carry his yoga mat from home to studio and office to studio with ease. This vegetable-tanned leather strap by a Canadian company is a great gift for the jet-setting or commuting yogi | in-store and online $48
Province Apothecary: After Shave Oil is amazing for all skin types and absorbs quickly into the skin, working to soothe irritation and razor burn and to prevent bleeding | in-store and online $36
Province Apothecary:

Beard Oil

 will transform the way his beard looks and feels, no matter his skin type | in-store and online $36

Acuball

: Tight muscles? Got it. Seeking improved joint movement? This therapeutic prop can support him. Pop this Acuball in his stocking! | available in two sizes in-store and online starting at $20
BONUS
In addition, we have a few not-so-stocking-stuffer sized suggestions that we think he might love; and both are under $50! Gift him a Halfmoon Blanket* or a B Yoga Travel Yoga Mat** and he will be well on his way to adding comfort to poses and hitting the road with the grippiest, most lightweight yoga mat around.
Have a few ideas or favourites you'd also like to share with us? Drop us a line in the comments below! Or give our Happiness Team a call. They are ready to serve you, tissue paper, ribbons and all!
* Halfmoon blankets are available online in Natural and Stone, and in-store also in Berry.
** B Mats are available in-store and online in 3 sizes, 2 lengths and 5 colours. There really is a mat for ever yogi and yogini!